Why Do I Get Frequent Nosebleeds?
posted: Feb. 25, 2021.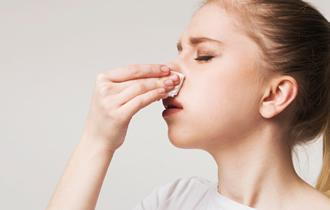 The nose is lined with blood vessels. When one or more blood vessels have been injured, this results in a nosebleed. While a gushing nosebleed—especially when it comes out of nowhere—can be a little unnerving, it's usually nothing to worry about. Nosebleeds are incredibly common. In fact, according to WebMD, about one out of every seven people in the US will experience a nosebleed during their lifetime, with it being most common among children 2-10 years old. Of course, if nosebleeds are a recurring problem, it may be time to talk with an ENT doctor.


Common Causes of Nosebleeds
If you get a nosebleed every once in a while, this typically isn't a cause for concern. Nosebleeds are usually caused by,


Injury to the nasal membrane

Picking at your nose

Cold air

Dry, heated air

Repeated use of nasal sprays

Taking aspirin often

Blowing your nose regularly

Respiratory infections (e.g., colds and flu; sinusitis)

An allergic reaction

Chemical irritants




If your nosebleed lasts longer than 20 minutes or results from an injury, you must see a doctor right away as this could be a sign of a posterior nosebleed. A posterior nosebleed occurs when there is damage to an artery branch deep within the nose, leading to heavy bleeds that can go down the throat. This is a serious condition that requires immediate medical care.


Causes of Frequent Nosebleeds
If you're dealing with persistent nosebleeds, here's what could be going on,


You may have ruptured blood vessels in the lining of the nose

You could have a polyp or growth in the sinuses or nasal cavity

You could have a health problem that affects blood clotting

You could have an inherited condition known as Osler-Weber-Rendu syndrome, which results in abnormal blood vessels in the nose




If you experience nosebleeds four or more times a week, you must have an ENT doctor find out what's going on. If you only experience a nosebleed a couple of times a month this could be a sign of a chronic issue such as allergies. If you aren't able to get your nosebleeds under control on your own, it's time to see a doctor.

An ENT doctor can help you address all of your ear, nose, and throat problems. If you're plagued with nosebleeds, we can find out what's causing your symptoms and how to treat them. Call your ENT doctor today to schedule an appointment.
Tags: Nosebleeds